Fiducient Advisors recently completed a survey of many of its financial institutions clients to analyze how thoughtful firms are responding to, and evolving business strategy in light of the COVID-19 crisis. Working with 35 advisory firms collectively representing nearly $100 billion in assets under management, we heard from a lot of these advisors and the message is clear: this time, it's personal.
Advisors often assume the role of the non-emotional party to help clients make educated decisions; a change in jobs, retirement plans, welcome additions to the family… this is a situation advisors are also facing alongside their clients. Advisors' concerns have been two-fold: first, the safety and health of colleagues and clients as society and coming to grips with shelter-in-place rules, supply shortages and restricted travel. Second as social distancing and health guidelines helped 'flatten the curve', the focus is now responding to changed business conditions and evolving firm strategy in light of the pandemic.
With 92 percent of respondents sharing that they are concerned or very concerned about the COVID-19 crisis, advisors overwhelmingly believe this will have some lasting implications on client relationships, service models and conducting business generally.

With over half of respondents believing that a downturn will affect their business for at least 12 months, advisory firms are already starting to see the revenue impact of COVID-19 (ex. Loss of clients, reduction in billable revenues, delays across the pipeline of new business opportunities.)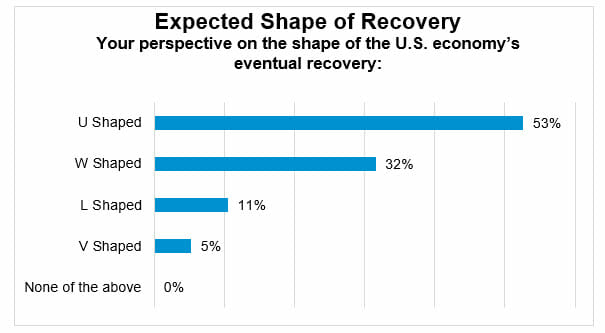 …Additionally, most respondents believe a recovery will take time, but not forever. A combined 85 percent of respondents expect a slower "U" shaped or bumpier "W" shaped economic recovery.
While many advisory firms have healthy margins and heed their own advice to clients (i.e. planning, rainy day funds.), many are preparing for the 'lower for longer' recovery and seek to thoughtfully respond to this new challenge. Of worthy note, are some of those proactive responses:
– Modeling for two outlooks: an expected scenario, and an additional 'dark' scenario. This exercise helps firms identify tactics for dealing with times of stress
– Double down on Purpose: COVID-19 has acted as an accelerant for areas of business risk, are there initiatives that should have begun before the crisis?
– Helping 'move the ball forward': Taskforces to respond to immediate challenges, such as how and when to open the office, initiatives to help keep colleagues engaged, prioritizing client service and prospecting in today's environment
– Reviewing cost structures in an effort to control expenses and efficiencies (i.e. hiring, termination, negotiate pricing, reduce expenses, rent abatement, etc.). We note only 63 percent of firms have begun this process.
To no one's surprise, navigating the investment landscape during a pandemic has seen a shift in how advisors spend their time. Worthy to note… client communication is up meaningfully from prior surveys. Additionally, advisors shifted from monthly communication to a weekly cadence. Although advisors are willing to help solve client problems, 21 percent of respondents have not yet begun prospecting in a meaningful way during this environment.
While advisors do not want to sound tone-deaf and investors have a narrow threshold to pitching at this time, they may be seeking and greatly benefit from rationale input. According to our survey, 4 percent of Centers of Influence are open to refer business, unless, looking to help friend or colleague solve a problem (in which case, 100 percent of Centers of Influence would be able to make referrals). Therein lies the solution: almost everyone is trying to solve a problem and playing good defense makes a phenomenal offense. Firms will need to figure out the balance, but time spent on future success will help drive the comeback story, which will be better for some advisor firms than others.
Given the current environment, we simply wanted to share that we are here to help: , the
At this point, we're regularly publishing content and I encourage you to check out recent pieces such as Energy Market Update, The Case for High Yield Credit and our updated capital market forecast assumptions factoring-in the COVID-19 crisis so far (available upon request).
Please visit our website, to view this information as well as our entire research library.
Feel free to also contact me about the complimentary Observations & Considerations Analysis. The analysis includes meaningful output to help you identify any gaps in processes, tools or resources, as well as potential solutions to fill those gaps and enhance your current investment platform
Such resources are one of the vital ways Advisors can free up resources to effectively drive more frequent client interaction, drive deeper relationships and scale their businesses quickly. As an engine for many growth oriented firms, we can help supplement existing resources to provide help with asset allocation and model portfolios as well as strengthen research coverage and due diligence.
Survey Methodology: The survey was conducted between April 14 and April 23, 2020. The survey was sent to 350 current and prospective clients of Fiducient Advisors' OCIO partnership practice. We received completed responses from 42 individuals across 20 unique firms. Out of these firms, 12 are current clients and eight are prospective clients.
The information contained herein is confidential and the dissemination or distribution to any other person without the prior approval of Fiducient Advisors is strictly prohibited. Information has been obtained from sources believed to be reliable, though not independently verified. Any forecasts are hypothetical and represent future expectations and not actual return volatilities and correlations will differ from forecasts. This report does not represent a specific investment recommendation. The opinions and analysis expressed herein are based on Fiducient Advisor research and professional experience and are expressed as of the date of this report. Please consult with your advisor, attorney and accountant, as appropriate, regarding specific advice. Past performance does not indicate future performance and there is risk of loss.