If you have been advising clients for some time, you know the four most dangerous words might be "It's different this time". But investment advisors must come to grips with the reality that the COVID-19 crisis is different from anything we have seen in our careers… and in fact different from anything investors have seen for more than 100 years. First, I outline why these are unprecedented times and then I share a useful three-step approach for you to help clients navigate this crisis.
A Triple Whammy
Unprecedented speed of decline in stocks and jobs This bear market arrived 10 times faster than the average of 164 days (only the Great Depression and Black Monday came anywhere close to matching its speed)1. And the abrupt halt in job growth is stunning.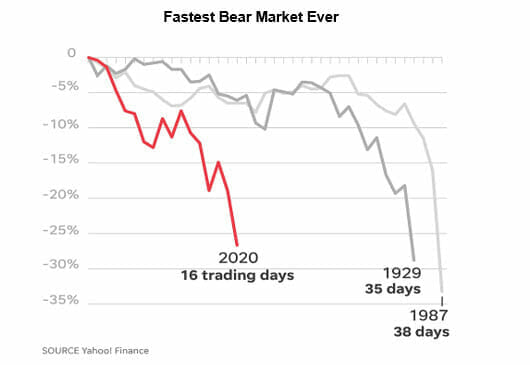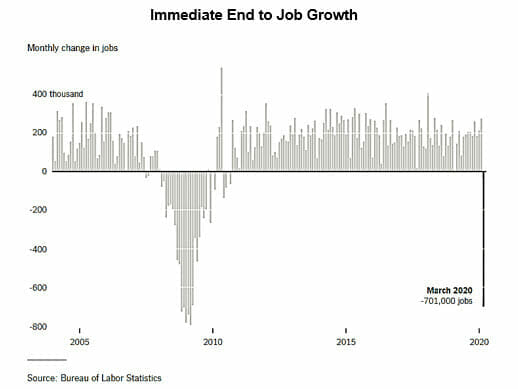 Unprecedented Volatility Simply put, the S&P 500 experienced its most volatile month in history.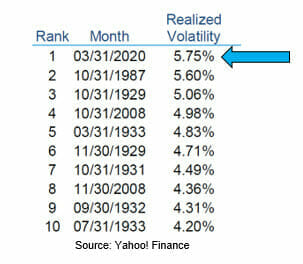 Uncommon Catalyst. Unlike many bear markets resulting from economic failings (e.g. – the subprime mortgage debacle or the tech bubble), this bear market and ensuing recession is health driven. While COVID-19 is not the first pandemic crisis (it is estimated that the 1918 Spanish Flu infected about 27 percent of the world's population2), this is the harshest stock market reaction to a pandemic one can recall. Concern over coronavirus prompted stock indices to plunge by 30 percent or more, yet the impact of the Spanish Flu on stocks was minimal. It is worth noting that in addition to markets and information flow being very different at the time, the Spanish Flu occurred in the midst of World War I.
How to Advise Clients
Adding to the uncertainty is the reality that we won't look to economic metrics, but instead to scientists and doctors to wave an all-clear flag. This is different, or at a minimum highly uncommon, and it means our advice to investors should be a bit different. Your clients are understandably nervous and confused. Here is how to guide them.
1. Ask clients, especially those that are emotional, whether they believe this is the end of the world. If so, then their portfolio value won't really matter. However, if like the Great Recession, 9/11 and other crises they believe this is a tunnel with some light on the other end, then it makes sense to work a thoughtful plan.
2. Carving out any extraordinary liquidity reserves is the top priority in the plan.
3. Rebalancing portfolios using both art and science is next. Fiducient Advisors' proprietary rebalancing methodology, the Portfolio Engineer®, consistently assesses the overall risk and return of a portfolio. Though rebalancing may occur infrequently, when triggered the transition occurs rather swiftly. Again, we are in an environment of heighted uncertainty with doctors and scientists not yet close to having the solution to COVD-19. We suggest that advisors, after accounting for any special liquidity needs, rebalance clients 50 percent back to target allocation… followed a few more "swings" toward target over the coming months. Yes, this incorporates more art than typical but it also helps move potentially frightened investors off the sidelines, and still maintains some dry powder should stocks fall further. See How To Rebalance In Three Simple Steps
Whether you believe this crisis is different or just highly dissimilar, advisors can take this opportunity to prove their value to clients. Access our Insights and feel free to contact Chad Tischer or Joe Cortese at 312-853-1000 to learn how Fiducient Advisors helps advisors prosper.
The information contained herein is confidential and the dissemination or distribution to any other person without the prior approval of Fiducient Advisors is strictly prohibited. Information has been obtained from sources believed to be reliable, though not independently verified. Any forecasts are hypothetical and represent future expectations and not actual return volatilities and correlations will differ from forecasts. This report does not represent a specific investment recommendation. The opinions and analysis expressed herein are based on Fiducient Advisor research and professional experience and are expressed as of the date of this report. Please consult with your advisor, attorney and accountant, as appropriate, regarding specific advice. Past performance does not indicate future performance and there is risk of loss.